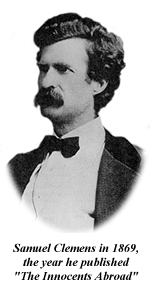 Mark Twain, born November 30, 1835, became America's favorite writer and speaker because he brought humor into peoples' lives. A Southerner, baptized as Samuel Langhorne Clemens, Mark became the sixth child of Jane Lampton and John Marshall Clemens. Twain grew up in the small river town of Florida, Missouri. At the age of four, his family moved to the city of Hannibal, a slave holding community of 2,000. Being a mischievous boy, Twain became the prototype of his own character, Tom Sawyer. Even though plagued by bad health, Twain learned to smoke at the early age of nine. Twain headed a group of pranksters and detested school. He used this lifestyle in his later writings including the Adventures of Tom Sawyer. After his father's death, the Clemens family went into debt, forcing Mark to stop his formal schooling, at the age of twelve, and take a job as an apprentice in a printers' shop. Unable to save his wages, Twain traveled back and forth between New York, Philadelphia, Washington, and Iowa as a journalist.

As a boy, Mark Twain had a dream of becoming a river boat pilot. Soon Twain became an apprentice under Horace Bixby. At the age of twenty-four, he became a licensed river boat pilot. He earned a high salary navigating through the river waters, but never settled down. Samuel Clemens took on the pen-name Mark Twain from the calls yelled out by the leadsman on the river boat. Mark Twain means safe navigating conditions (or two fathoms). His river boat piloting days were over in 1861, when the Civil War began.

Twain signed up to be a confederate soldier under Governor Jackson. With only one short encounter with the enemy, he deserted the military and moved west to avoid being drafted. He married Olivia Langdon in February of 1810, after only knowing her for one year, in which he wrote her almost 200 letters
.
Twain and his wife, Olivia, had four kids: one boy and three girls. His son, Langdon Clemens, died during infancy after being prematurely born. The three girls names were, from youngest to oldest, Jean, Clara, and Susy. All three of the daughters were home schooled by their mother and a tutor until they were old enough to attend the Hastford Public High School. Twain was an absent father, because of the attention to the publication of Huckleberry Finn, he continued to tour in support of the book instead of spending time with his family.

Twelve years after the Gold Rush, Twain went to Nevada to strike it rich on silver and gold. Since he did not make much of a profit while mining he became a journalist. His first writing job in the west came with the Virginia City Territorial Enterprise. At this time, he first used the pen-name Mark Twain. Some of his other newspaper jobs included the following: The Union, and the Morning Call. After a couple of years, he decided to write stories and books.

Mark Twain's first book, called Innocents Abroad, sold 67,000 copies in the first year published. In 1872, Twain wrote his second book called Roughing It, which became a documentation about the post-gold rush mining epoch. The turning point in Mark Twain's career occurred when he published the Gilded Age. The Gilded Age talked about the 1800' s era of corruption and exploitation at the expense of the public welfare. This book, Twain's first extended work of fiction, made him an author rather than a journalist.

Mark Twain's first humorous pieces, written while living in California and Nevada, created an enormous following. Many other people, though, found Mark Twain's humor to be crude and irreverent.
Life on the Mississippi, published by Osgood in 1883, opens with a two-chapter description of the Mississippi River and the history of it. In the end of the opening paragraph, it states that the Mississippi's drainage basin alone is "As great as the combined areas of England, Wales, Scotland, Ireland, France, Spain, Portugal, Germany, Austria, Italy, and Turkey." The book talks about how Mark Twain travels from city to city, along the Mississippi and about life as a river boat pilot. One humorous example of a casual comment Twain made on the growth of the riverside town of St. Louis states: "I could have bought it for six million dollars, and it was the mistake of my life that I did not do it." Life on the Mississippi provides a glimpse of the life that Mark Twain loved so much, along with the humor he became so well known for.

Mark Twain's first banned book Huckleberry Finn became widely considered to be the greatest book he created, the only other banned book he wrote was Tom Sawyer. Both of these banned books grew from childhood experiences in Hannibal, Missouri, and on the Mississippi River where he mastered being a riverboat pilot. Huckleberry Finn, was banned not because of racial issues, but because of the dialect. The library officials at the Concord Public Library thought it to be "more suited to the slums than to intelligent, respectable people." Because of the problems with his book, he decided to sell subscriptions from door to door, rather than selling books at bookstores, or having them in the public library. The books that Mark Twain wrote continue, to this day, to be challenged and banned but for different reasons than before. So many challenges came, that his books have been listed among the ten most frequently challenged books and authors from 1982 to 1996. If he continued to live today, Mark Twain would most likely be found at libraries and in online chat rooms during Banned Books Week to discuss the fate of his own books through the years.

Mark Twain died on April 23, 1910, saddened by having outlived both wife and two of his daughters (only Clara outlived him). He grew to be considered the greatest character painter in the literary community.

Within Mark Twain's books, you will find his desire for great wealth and his personal identification with the common man. Twain's writings also show realism but still contain the use of his creative imagination. Despite these differences, Twain's writings became greatly admired, mainly because of his good humor, charm, and his view of a lost America. He became a distinguished member of the educated class and received honors from Yale, the University of Missouri, and Oxford, all of which presented him with literary degrees. Under his pen name of Mark Twain, Samuel L. Clemens became an exceptionally popular author during his lifetime and is still regarded as one of America's best writers.
Works Cited
Hoffman, Andrew Inventing Mark Twain. Upper Saint Martin's Lane, London: The Orion Publishing Group Ltd., 1997, pp236–239.
Welland, Dennis The life and times of Mark Twain. Park Avenue South, N.Y.: Crescent Books, 1991, pp9–34.

Internet Resources
www.boondocksnet.com/twainwww/local.html
www.geocities.com/twain_online/library.htm
www.gradesaver.com/ClassicNotes/Authors/About_Mark_Twain.html
http://marktwain.about.com/arts/marktwain/library/weekly/aa000111a.htm


.
---
---