Welcome to my personal web site!

Here you'll learn all about me and why you should be afraid.
On this home page, the "doorway" to me you will find out what makes me tick as if it really means anything to ya.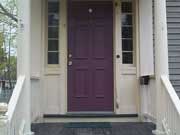 I hope to update this page often with new photos.

What's New?
Here I might add an entry whenever I make an update to my web site. Where appropriate, I'll include a link to the change. For example:

1/1/00 - Added new photos of my most recent vacation to Italy to the "Vacation Photo Album" page.